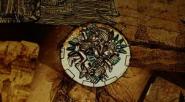 The Amulet of Eternity is an artifact previously worn by the High Priest of The Golden Abyss. This amulet represented time before the Earth was made, before Mahuquotex and Chihopotex were separated by Itzicaltli at their sundering of the heavens.
Gallery
Ad blocker interference detected!
Wikia is a free-to-use site that makes money from advertising. We have a modified experience for viewers using ad blockers

Wikia is not accessible if you've made further modifications. Remove the custom ad blocker rule(s) and the page will load as expected.