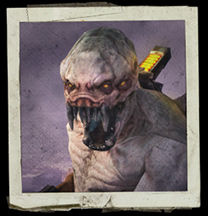 Chimera Hybrid is a basic enemy soldier from the Resistance video game series.
It is available in the Uncharted 2 multiplayer when the PlayStation Heroes Skin Pack is bought. It appears on the Villains side as Chimera Hybrid and like other downloadable characters, the Chimera doesn't make grunt sounds when jumping.
Gallery
Ad blocker interference detected!
Wikia is a free-to-use site that makes money from advertising. We have a modified experience for viewers using ad blockers

Wikia is not accessible if you've made further modifications. Remove the custom ad blocker rule(s) and the page will load as expected.