Ad blocker interference detected!
Wikia is a free-to-use site that makes money from advertising. We have a modified experience for viewers using ad blockers

Wikia is not accessible if you've made further modifications. Remove the custom ad blocker rule(s) and the page will load as expected.
This article is about the multiplayer skin. For the article about the enemies in singleplayer, see Rameses' Pirates.
Custom Villain
Biographical information
Relationships
Physical description
Series information

Appears in:
The Customizable Villain (Pirate in multiplayer beta) is a multiplayer skin that appears in Uncharted 3: Drake's Deception. It is the only villain available to play as in the multiplayer beta. He obviously belongs to the pirate gang that appears in the story mode of the game.
Customization
You can customize your Custom Villain in many different ways.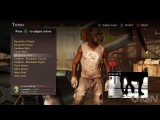 Variant
Torso
Rebellion Shirt - Default
Explorer Shirt - Purchase
Camo Shirt - Purchase
Merc Shirt - Purchase
Bandolier Closed - Purchase
Leather Jacket - Purchase
Emblem Shirt - Purchase
Heavy Bandolier - Purchase
Bandolier Open - Purchase
Merc Vest - Purchase
Plain Armor - Purchase
Rocket Backpack - Purchase
The Last Of Us shirt - Default
Camo Vest - Purchase
Rebreather - Purchase
Ghillie Suit - Purchase
Merc Armor - Purchase
Emblem Merc Shirt - Treasure Set
Desperado Shirt - Downloadable
Bandit Shirt - Downloadable
Head
None - Default
Worn Beanie - Purchase
Common Mask - Purchase
Winter Hat - Purchase
Hat Scarf - Purchase
Face Scarf - Purchase
Camo Cap - Purchase
Camo Face Scarf - Purchase
Headphones - Purchase
Patterned Face Scarf - Purchase
Dust Storm Face Scarf - Purchase
Helmet - Purchase
Skull Face Scarf - Purchase
Helmet Face Scarf - Purchase
Camera Helmet - Purchase
Tailored Face Scarf - Purchase
Camo Helmet - Purchase
Sharp Sunglasses - Purchase
Emblem Mask - Purchase
Dive Helmet And Goggles - Purchase
Gas Mask - Purchase
Flight Helmet - Purchase
Ghillie Gas Mask - Purchase
Emblem Helmet - Purchase
Emblem Hat - Treasure Set
Helghast Helmet - Downloadable
Desperado Hat - Downloadable
Bandit Hat - Downloadable
Grimaldi Clown Mask - Third Legacy
Willie Clown Mask - Third Legacy
Rice Clown Mask - Third Legacy
Belling Clown Mask - Third Legacy
Arms
None - Default
Tough Gloves - Purchase
Worn Gloves - Purchase
Thick Gloves - Purchase
Leather Gloves - Purchase
Reinforced Gloves - Purchase
Heavy Gloves - Purchase
Fingerless Gloves - Purchase
Combat Gloves - Purchase
Merc Gloves - Purchase
Soldier Gloves - Purchase
Desperado Gloves - Downloadable
Bandit Gloves - Downloadable
Legs
Common Pants - Default
Patchwork Pants - Purchase
Common Pirate Pants - Purchase
Explosive Pirate Pants - Purchase
Camo Pirate Pants - Purchase
Formal Pirate Pants - Purchase
Merc Pants - Purchase
Covered Merc Pants - Purchase
Armored Common Pants - Purchase
Ghillie Pants - Purchase
Desperado Pants - Downloadable
Bandit Pants - Downloadable
Feet
Worn Boots - Default
Sandals - Purchase
Laced Boots - Purchase
Sneakers - Purchase
Light Boots - Purchase
Leather Sandals - Purchase
Hiking Sneakers - Purchase
Hiking Boots - Purchase
Mountain Boots - Purchase
Heavy Boots - Purchase
Combat Boots - Purchase
Leather Boots - Purchase
Camo Boots - Purchase
Desperado Boots - Downloadable
Bandit Boots - Downloadable