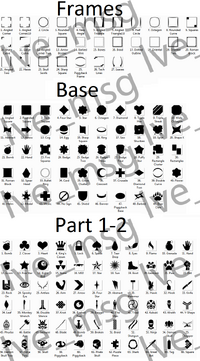 Emblems
are a feature in the
multiplayer mode
of
Uncharted 3: Drake's Deception
.
Overview
Emblems enable the player to create their own symbol to represent them online. If they are the best player in the game, their emblem will appear around the map. Some emblem pieces are unlocked via treasure sets such as emblem shirts and hats, or by using the right codes. However, most require in-game payment.
Customisation
The emblem creator is split into four sections. The border, the base and two images. Players can have all four on their emblem at once or even just one. Emblem pieces can be rotated, made smaller or bigger and changed colour. The emblem pieces are listed below.
Note: The next sections need updating.
Frames
Piece
Price ($)
Angled Corner
Circle
Hexes
Rounded Corners
Rounded Square
New Angle
Angled Triangle
Half Circle
Octagon
Round Curve
Squares
Sharp Curve
Large Curve
Tech Lines
Leaves
Sharp Square
Bases
Piece
Price ($)
Angled Square
Rounded Square
Sharp Square
Star
Triple Hex
Triple Streak
Abstract
Arrow
Cog
Egg
Octagon
Ring
Saw
Shuriken
Splat
Tech Square
Shape X
Barbed
Bear Claw
Bomb
Hand
Images
Piece
Price ($)
Bomb
Clover
Heart
King's Crown
Lock
Spade
Tear Drop
Eyes
Flame
Grenade
The Hand
M32
Star
Sun
Gasmask
Nuke
Paw
Skull
Fist
Ninja
Ninja Two
Rock On
Spooky Eye
Piggyback Decals
To unlock this, go to the emblem editing screen and press: up, right, down, left, up, left, down, right. If entered correctly the player should then have access to:
Piggyback Frame
Piggyback Base
Piggyback Logo
Piggyback Hog's Head
Trivia
If the player has completed a certain number of co-op missions in the beta, then they can unlock some of the decals instantly.
Ad blocker interference detected!
Wikia is a free-to-use site that makes money from advertising. We have a modified experience for viewers using ad blockers

Wikia is not accessible if you've made further modifications. Remove the custom ad blocker rule(s) and the page will load as expected.