France
Talk

0
1,499pages on
this wiki
France is a country visited by Nathan Drake and Victor Sullivan in Uncharted 3: Drake's Deception.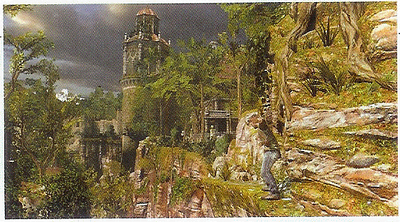 Searching for Iram of the Pillars
Edit
Nathan Drake and Victor Sullivan traveled to France to find a chateau that contained a crypt with one half of an amulet that will reveal where they must travel to next in order to find Iram of the Pillars. After navigating through a jungle, Drake and Sully find the chateau but they discover that Talbot and his men followed them. Inside the chateau the duo finds John Dee's secret laboratory. Underneath the lab is the crypt where they find half of the amulet.
As Drake and Sully are leaving, Talbot and his agents take the amulet piece and leave them in the chamber as a swarm of deadly spiders crawl into the room. Drake and Sully find a way out and return to the chateau where Talbot orders his men to burn the whole building down. Drake and Sully barely make it out of the burning chateau and flee into the jungle, where they argue over Nate's obsession of finding Ubar. They then realize that they must leave France immediately and head to Syria to warn Chloe Frazer and Charlie Cutter that Talbot is onto them and that they must find the other piece of the amulet quickly.