Genghis Khan
Talk

0
1,499pages on
this wiki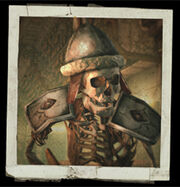 Genghis Khan
is both a villain skin for
Multiplayer
mode and a skin in single-player of
Uncharted 2: Among Thieves
. In the story, Genghis Khan is mentioned as being one of the very few powerful leaders to have simply a fragment of the
Cintamani Stone
Skin Description
Edit
Like most of the skeleton skins, he is an anthropomorphic skeleton, but wearing a special piece of headgear, along with a set of bronze shoulder-pads and ragged cloth. His armor does not sheild him from bullets.
Uncharted 2: Among Thieves Edit
Completing the game on Crushing is required to unlock him. The skin will then appear in the Store; Villain Skins of Multiplayer for $1,500,000. He will also appear in the single player store as a skin for free once the game is completed on Crushing.
Genghis Khan is also an available skin in Uncharted 3: Drake's Deception, players will have to complete the Valuable Lion treasure set to unlock him. He's on the villain side and has Draza's voice.
Genghis Khan is one of five anthropomorphic skeleton skins in Uncharted 2 Multiplayer (the others being Marco Polo, Skelzor, Glowzor and Platzor).
Due to him being having no voice in Uncharted 2: Among Thieves, Genghis Khan is a good choice for stealth.
Along with the other skeletons, his bones make a slight clanking noise as they move.