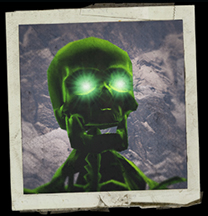 Glowzor is a is a selectable multiplayer skin in Uncharted 2: Among Thieves.
Overview
Uncharted 2: Among Thieves
Multiplayer
Description
Glowzor's appearance is almost exactly as Skelzor's; he is an anthropomorphic skeleton. However, unlike his counterpart, Glowzor's body is fluorescent green in color, while his also having glowing green eyes and heart.
Similar to other skeleton skins, Glowzor has no voice when climbing or jumping, making him an ideal skin for stealth.
Availability
In Uncharted 2: Among Thieves, Glowzor is available for usage once the player has collected a number amount of treasures during the campaign in the Remastered Uncharted Collection, or has purchased the Siege Expansion Pack for Uncharted 2, which also included another version of Skelzor, Platzor. He would be placed on the villains side.
Glowzor does not re-appear in Uncharted 3: Drake's Deception.
Ad blocker interference detected!
Wikia is a free-to-use site that makes money from advertising. We have a modified experience for viewers using ad blockers

Wikia is not accessible if you've made further modifications. Remove the custom ad blocker rule(s) and the page will load as expected.