Lovac
Talk

0
1,499pages on
this wiki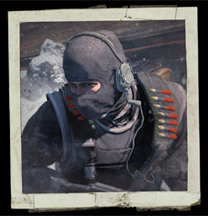 Lovac is the name of the playable sniper soldier in Uncharted 2.
Biography
Edit
Lovac "Headphone soldier" is a sniper soldier who wears a navy ski mask and headphones. His weapon of choice is the Dragon Sniper, but he can also be seen using a Desert-5.
Lovac is available as a multiplayer skin.
Lovac is available as a single player skin once you have purchased Sark.
The name Lovac, commonly means 'Hunter'
In many ways, Lovac is very similar to Drake's Fortune's Javier; he uses the Desert-5 and Dragon Sniper with laser sights and wears headphones.
Lovac was killed by Lazaravic while demonstrating to Drake his "no compassion, no mercy" philosophy.
In some later chapters Lovac's suit is replaced by Vodnik's suit.
There is a special version of Lovac in the Uncharted 2 single player campaign. In chapter "siege" in the place where after the GAU-19 is discovered. Down there, Lovac is wielding a Riot Shield and carrying a Desert-5. However he is very easy to defeat.
When Drake took Lovac hostage in Chapter 24 - The Road to Shambhala, Lovac had an M4.
Oddly enough, Lovac will frequently drop his sidearm (the Desert-5) upon being killed, even though he primarily wields the Dragon Sniper.