Proof Of Life is a Mystery in Uncharted: Golden Abyss, which, when completed, awards a bronze trophy of the same name. The Mystery contains 11 components, which are spread throughout the game.
Proof Of Life
Statistics

Description

Complete the Mystery

Type

Bronze
Descriptive Text
Small items belonging to the kidnap victims were often sent along with a note demanding ransom. How many people has Guerro kidnapped?
This mystery focuses on the items left behind by various kidnap victims of Roberto Guerro and his army. As Guerro was desperate to raise money to finance another revolution, he used all avenues open to him to raise the cash - including drug smuggling and kidnapping. Some of his victims were fortunate enough to be successfully ransomed and released, but others were not so lucky.
Components of the Mystery
Kilroy Was Here
Evidently Kilroy was here for at least 25 days.

Kilroy Was Here is a Charcoal Rubbing found in Chapter 4: "Why's the Building on Fire?"
Class Ring
This class ring belonged to a recent graduate who was vacationing with his family. The inscription reads 'Explore. Dream. Discover.'

The Class Ring is a Treasure found in Chapter 4: "Why's the Building on Fire?".
Victorian Pendant
A wealthy tourist from Florida hid this pendant when she was kidnapped. She dropped it when she was being dragged through the camp.

The Victorian Pendant is a Treasure found in Chapter 5: "I'm Not Leaving Without It".
Copper Locket
Inside the locket is the faded photo of a middle-aged couple from Vermont who went on vacation to Central America, and were never seen again.

The Copper Locket is a Treasure found in Chapter 6: "I'll Break Your Fingers".
Emerald Brooch
This brooch was given to a young woman from Colorado as a graduation present. On a trip to Panama with girlfriends, she vanished without trace.

The Emerald Brooch is a Treasure found in Chapter 7: "He Cut a Deal".
Watch Fob
This watch fob belonged to a rival leader of a drug cartel who vanished on a fishing trip to central Panama.

The Watch Fob is a Treasure found in Chapter 7: "He Cut a Deal".
Money Clip
A vacationer from Detroit droped this money clip. The inscription reads 'The better off you are, the more responsibility you have for helping others.'

The Money Clip is a Treasure found in Chapter 7: "He Cut a Deal".
Wedding Set
These rings were worn by a wealthy businessman and his wife who were travelling to Panama City for an international symposium on bananas.

The Wedding Set is a Treasure found in Chapter 8: "Learning the Hard Way".
Hairbrush
DNA testing on hair strands from this brush reveal that it belonged to a teenager from Des Molnes, Iowa.

The Hairbrush is a Treasure found in Chapter 9: "He Gave Them Everything".
US Passport
This passport belonged to an exotic bird collector from New Jersey, who was successfully ransomed by his wife.

The US Passport is a Treasure found in Chapter 11: "Finders Keepers?".
Escape Compass
This WW2-era Escape Compass belonged to a US Army Colonel.

The Escape Compass is a Treasure found in Chapter 12: "What That Means to Me".
Gallery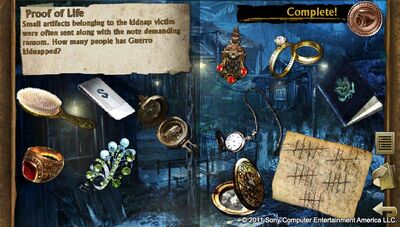 Ad blocker interference detected!
Wikia is a free-to-use site that makes money from advertising. We have a modified experience for viewers using ad blockers

Wikia is not accessible if you've made further modifications. Remove the custom ad blocker rule(s) and the page will load as expected.