New Devon is a multiplayer map in Uncharted 4: A Thief's End. It's the second map to be released after the Patch 1.08 (AKA: The Lost Treasures DLC) update. It is based on the ruins of New Devon the city that was founded by Henry Avery and the pirates of Libertalia. [1]
Description
"Inspired by the Uncharted 4 campaign, New Devon is set in the lush ruins of an abandoned pirate colony. It's one of our largest maps to-date and features wide open exteriors with elevated vantages for those who prefer long-range engagements. If you're more of a run-and-gun player, don't worry — there's no shortage of tight corridors for close-quarters combat."
— Official PlayStation description
Map layout
Spawn points
Gallery
Video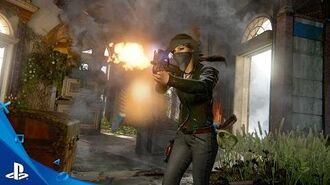 References
Ad blocker interference detected!
Wikia is a free-to-use site that makes money from advertising. We have a modified experience for viewers using ad blockers

Wikia is not accessible if you've made further modifications. Remove the custom ad blocker rule(s) and the page will load as expected.