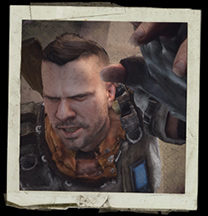 Tomas "Sev" Sevchenko is a selectable skin in the multiplayer mode of Uncharted 2: Among Thieves.
Overview
Description
Tomas Sevchenko, better known as Sev, is a main character within the Killzone video game series published by Sony Computer Entertainment; he appears as the main protagonist and playable character of 2009's Killzone 2 and 2011's Killzone 3. The Killzone franchise is developed by Guerrilla Games, a fellow first-party developer of Naughty Dog, who develops games exclusively for Sony's platforms.
Sev's skin is based on his appearance throughout Killzone 2, which was released on the same year as Uncharted 2.
Availability
Sev can be obtained as a playable Hero skin upon the purchasing of the PlayStation Heroes Skin Pack, with the Helghast Soldier being his Villain counterpart from the Killzone series.
Trivia
Gallery
External links
Ad blocker interference detected!
Wikia is a free-to-use site that makes money from advertising. We have a modified experience for viewers using ad blockers

Wikia is not accessible if you've made further modifications. Remove the custom ad blocker rule(s) and the page will load as expected.