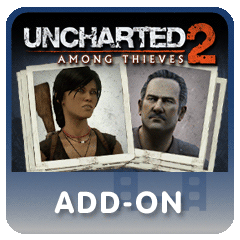 The Sidekick Skin Pack is the fourth Uncharted 2: Among Thieves downloadable content pack and was released on August 17, 2010 via the PlayStation Network, costing $2.99.[1] In the 9th of May 2012, all Uncharted 2 downloadable content packs (including the Sidekick Skin Pack) were free to download.[2]
Contents
This pack includes Heist Chloe, Borneo Chloe, Borneo Sullivan, UDF Sullivan, Winter Sullivan and Wetsuit Elena to the heroes side, and Dillon and Mac to the villain side.
Goof
Borneo Sully and UDF Sully are actually mixed up in the game. UDF Sully is the red shirt, but when using the skins online it is Borneo Sully, and vice versa.
Gallery
References
Ad blocker interference detected!
Wikia is a free-to-use site that makes money from advertising. We have a modified experience for viewers using ad blockers

Wikia is not accessible if you've made further modifications. Remove the custom ad blocker rule(s) and the page will load as expected.