Tau Sniper
Talk

0
1,499pages on
this wiki
The Tau Sniper, is a scope-fitted magnum pistol that appears in Uncharted 3: Drake's Deception.
Overview
Edit
The pistol appears to be a Taurus Raging Bull Magnum fitted with a scope. Tau is short for Taurus. In co-op, it can kill an enemy with one shot and sounds similar to the T-Bolt Sniper. It has a blind fire reticule when aiming instead of a regular one (campaign only.) It will also appear in singleplayer. Its scope is different from both the T-Bolt and the Dragon Sniper's scope.

In the multiplayer it takes three shots to kill someone, two to the head. Although it is generally considered to be underpowered, this can most likely be attributed to its unforgiving firing rate and lack of aim assist. 
Variants
Edit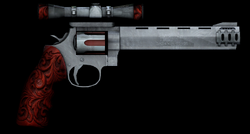 Complete the Nine Jewel Legendary Treasure Set in Team Objective.
Gold Nine Jewel Ring
Silver Nine Jewel Ring
Chloe's TAU comes with two mods: Reload Speed, for faster reloading, and Call Out, which let's your team mates know your opponents location.
It seems to be based off of the Taurus Raging Bull .44 magnum with a scope fitted to it
As a pistol, the lack of firepower may be due to its short ranged design used at sniping distance.
References
Edit