Ad blocker interference detected!
Wikia is a free-to-use site that makes money from advertising. We have a modified experience for viewers using ad blockers

Wikia is not accessible if you've made further modifications. Remove the custom ad blocker rule(s) and the page will load as expected.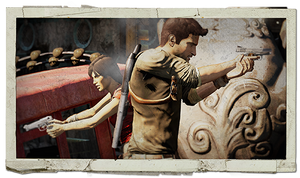 The Lab was a selectable competitive multiplayer gamemode in Uncharted 2: Among Thieves. It was run by Naughty Dog.
Overview
Each edition of The Lab featured a variation on the standard competitive gametypes from Uncharted 2's multiplayer. The Lab was usually run for two weekends every month, once every fortnight. On October 16th 2010 an extra episode of The Lab was run to celebrate the first anniversary of Uncharted 2: Among Thieves. The Lab often coincided with cash multiplier events.
The Lab gametypes
Gametype
Date
Description
Available Maps
Cash Multiplier
2 vs. 2 Team Deathmatch
May 28 – June 1 2010
Grab a partner for this small- to medium-size map mow-down. You've got 15 minutes to rack up 25 kills, or more than the other team, to prove your small-team superiority.

The Temple
The Ice Cave
The Plaza
The Village

2x
Shotguns & Pistole Only
June 11 – 14 2010
It's short-range mayhem as all players and maps spawn with Moss-12 and Pistole only. Oh, and NO grenades.

The Temple
The Village
The Train Wreck
The Ice Cave

None
Sniper Extermination
June 25 – 28 2010
Two teams. Dragon Sniper rifles. One life per round. Best of 5 rounds takes the match win. Absolutely tense, totally tactical.
Unknown
Unknown
Plunder - Pistols Only
July 9 - 12 2010
Plunder. But with Pistols only, no rifles, no power weapons. This should even the odds between the treasure bearer and his assailants as all will be equipped with the relative high-rate of fire and excellent accuracy of the 92FS pistol.

The Plaza
The Sanctuary
The Train Wreck
The Lost City

None
Grenades Only
July 23 – 26 2010
Boom...

The Plaza
The Sanctuary
The Train Wreck
The Village

None
Co-Op Crushing
August 6 – 9 2010
Think you've mastered all of the Co-op modes? Give this episode of The Lab a try – health has been lowered to Crushing levels in a selection of Co-op Arena maps. This episode of The Lab was originally meant to feature Co-op Objective maps as well, however Naughty Dog announced that there was an issue that would prevent them from adding those maps.

The Plaza – Gold Rush
The Village – Gold Rush
The Lost City – Survival

None
No Power Weapons
August 20 – 23 2010
Can you still dominate with the basic tools of Uncharted 2 multiplayer? During this weekend of "The Lab" the only tools left in your arsenal are the AK47, FAL, 92FS-9mm, Micro-9mm and the Mk-NDI grenades.

The Plaza
The Train Wreck
The Village

None
3 vs 3 Deathmatch
September 3 - 7 2010
3 vs. 3 team deathmatch, with NO boosters.

The Sanctuary
The Train Wreck
The Temple

2x
Desert - 5 Shootout
September 17 - 20 2010
In this episode of The Lab, you've only got your trusty eight-shooter, the Desert - 5, to rely on against your opponents. Players spawn with only one grenade, and no further grenades can be found in the maps. There are No Boosters in this episode of The Lab.

The Sanctuary
The Temple
The Train Wreck

None
3 vs 3 Plunder
October 1 - 4 2010
Plunder is one of those gametypes where things start to get really interesting when you have less teammates to assert your domination over the maps. The tide can turn quickly and a lucky lone wolf can get the opening needed to take the treasure all the way to score.

The Plaza
The Sanctuary
The Temple
The Train Wreck

None
Best of...
October 16 2010
As part of the one year anniversary celebration of Uncharted 2, Naughty Dog are ran a very special, one-day only playlist rotating through your favorite episodes of "The Lab" – as voted for through monthly NaughtyDog.com polls. The gameplay variations available were: Shotguns Only, Plunder - Pistols Only, No Power Weapons, Desert-5 Shootout, and Deathmatch – No Boosters.

The Plaza
The Sanctuary
The Temple
The Train Wreck

5x
2 vs 2 Elimination
October 29 – November 1 2010
How do you make Elimination even more tactical? Reduce the maximum number of players on each team down to two. Teamwork, good communication and a sound strategy are absolutely necessary if you want to win rounds and matches. No Boosters, No Power Weapons.

The Ice Cave
The Plaza
The Temple
The Train Wreck

2x
M32-Hammers Only
November 12 - 15 2010
You've experienced The Lab episode of Grenades Only to get your fill of explosives-only action in multiplayer. In that vein, Naughty Dog have focused one power weapon for this episode of The Lab, the M32-Hammer. Players spawn with 8 shots in their M32-Hammer, and some ammo can be found scattered throughout the maps. All other weapons, including grenades are disabled.

The Plaza
The Sanctuary
The Temple
The Train Wreck

None
Plunder - Snipers Only
November 24 - 29 2010
A Thanksgiving special episode of The Lab featuring Doughnut Drake and Doughnut Lazarevic skins, and double cash! Starting from this weekend of The Lab, the cash cap was removed permanently from multiplayer.

The Lost City
The Plaza
The Train Wreck
The Sanctuary

2x
Best of...
December 22 2010 - January 3 2011
Same as previous "Best of..." playlist

The Plaza
The Sanctuary
The Temple
The Lost City

4x
No Power Weapons
January 14 – 18 2011
Due to the primary focus of developing Uncharted 3, from this date onwards the most popular old Lab playlists will be reused.

The Lost City
The Plaza
The Sanctuary
The Temple

3x
Sniper Extermination
January 28 - 31 2011
Elimination – you're out for the round as soon as you've been taken out by the other team – but with Sniper rifles only.

The Lost City
The Plaza
The Temple
The Train Wreck

None
Shotguns & Pistole Only
February 10 – 14 2011

This episode of The Lab favors short range battles as all players are equipped with only a shotgun and pistole. There are no grenades and no other weapons available for pickup on the map, although you can still rock the riot shields and use propane tanks.

The Ice Cave
The Temple
The Train Wreck
The Village

None
RPG-7s Only
February 25 - 28 2011
Normally only found within the All Competitive Modes playlist or within custom games, Naughty Dog decided to give "RPG-7s Only" it's day in The Lab. Following this Lab weekend, RPG-7s only was removed from the All Competitive Modes playlist.

The Ice Cave
The Lost City
The Plaza
The Village

None
Deathmatch - No Boosters
March 11 - 14 2011
It's normal weapons, but no boosters in this edition of the Lab.
Unknown
Unknown
Snipers & Pistole
March 25 - 28 2011
After removing Snipers and Pistoles from All Competitive Modes, Naughty Dog brought it back for its own Lab.

The Ice Cave
The Lost City
The Sanctuary
The Village

None
Deathmatch - Crushing
April 8 2011 - TBA
Originally meant to end on April 11th 2011, this playlist is still running, and was never taken down by Naughty Dog following the 2011 PlayStation Network outage. A hardcore gametype variation of Team Deathmatch. The Crushing option sets player health at 80% of normal health - which means you and all your opponents are going to go down that much quicker when being shot at.
Unknown
None
Cancelled/Postponed Labs
| Gametype | Planned Date | Description |
| --- | --- | --- |
| M32-Hammers Only | April 29 - May 2 2011 | This playlist was postponed due to the widespread PSN outages. It was due to be run with a triple cash weekend. Following the restoration of the PSN, Naughty Dog have posted no further updates on the status of this Lab. |