The Sanctuary is a large multiplayer map featured in Uncharted 2: Among Thieves and revamped into Sanctuary for Uncharted 3: Drake's Deception
Overview
Description
This map is based on Chapter 22 - The Monastery of the single player campaign. A similar style area based on the same location appears in the co-op objective mission with the same name.
The sanctuary has five main towers, plus two large buildings opposite each other - these are the starting spawn points. Four of the towers are at corners of the map, while the other one is to one side of the main courtyard, connected to a sheltered hut on the other side of the courtyard via a wooden roof. Beneath the main courtyard is a small cave, which is accessible via seven entrances.
Weapon locations
Image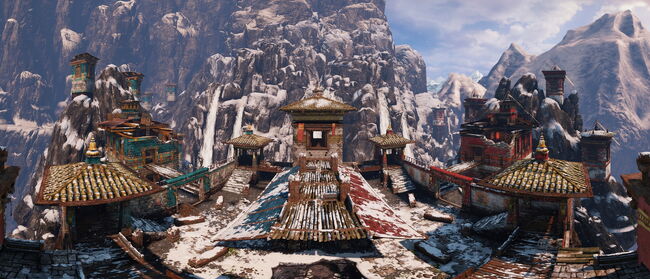 Ad blocker interference detected!
Wikia is a free-to-use site that makes money from advertising. We have a modified experience for viewers using ad blockers

Wikia is not accessible if you've made further modifications. Remove the custom ad blocker rule(s) and the page will load as expected.