A person on the forums found a very interesting find.
His quote:
"So as you've seen some unfinished Matchmaking Icons from the beta have been found, and one of them is Co op Monastery. So initially I thought it would just be a UDF co op mission as its the exact monastery from UDF, but then I realized that I doubt they would make all those textures and what not just for a co op mission when they have the full game to worry about. UDF was focused heavily around Francis Drake and the Ring, I think its pretty safe to say that drake will return to the Island in UDF to discover more secrets about Drake, etc." - JDxc23

What do you think this is?
I really hope it's a single player return cause this could solve the Eddy Raja theory. And you know I'm the biggest Eddy Raja fan!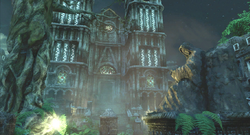 Ad blocker interference detected!
Wikia is a free-to-use site that makes money from advertising. We have a modified experience for viewers using ad blockers

Wikia is not accessible if you've made further modifications. Remove the custom ad blocker rule(s) and the page will load as expected.