2 June 2011
With E3 just around the corner, and the beta less than 4 weeks away, the Uncharted 3: Drake's Deception Collectors Edition and pre-order bonuses have been revealed.
If you're in America, for $99.99 you'll be able to get:
Sideshow Collectibles Nathan Drake Statue
A replica of Drake's belt buckle
A replica of Drake's ring/necklace
A "Steelbook" game case
All packaged in a "Travelling Chest"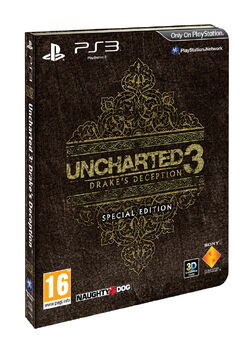 Or, if you're in a PAL territory, you can get your hands on the
Special Edition
(to the right). It's designed like
Nate's diary
, and contains illustrated pages and artworks. Inside, you'll find a PSN voucher which will allow you to obtain the following:
Multiplayer skin and weapon: "London Drake and Pirate AK-47": Customise the appearance of both your avatar and your weapon.
Multiplayer "Upper Cut Taunt": Allows you to give an upper-cut gesture for increased self-expression and bragging rights when playing online.
"Cash Multiplier": Earn in-game cash much faster when playing.
"Special Edition Decals Pack": Decals to customise your avatar's accessories.
Or, (and now you're being spoiled for choice), you can buy the Explorer Edition, which contains the above-mentioned Special Edition, the belt-buckle replica, the ring/necklace replica, and the Nathan Drake figurine. You'll also get an "antique style replica traveller box with a real authentic feel to it" to keep your treasures safe.
Retailers have also started rolling out their preorder bonuses:

Best Buy - Regeneration Booster
Allows you to "boost your healing power to recover from your wounds more quickly."
Amazon.com - Carpet Bomb Kickback
Allows you to "send out three grenades with a single throw to blanket your opponent – or take out a group of opponents – with multiple explosions."
'Amazon.com – Clip Size Mod for Para 9 or G-Mal
Allows you to increase the size of the bullet clip for your weapon of choice and "spend more time shooting your opponents before having to reload."
GameStop - Creepy Crawler Kickback Allows you to "turn into a swarm of deadly creatures for a limited time and overwhelm your enemies."
Wal-Mart - Callout Mod for AK-47 Allows you to "equip your AK-47 with a laser sight that enables your entire team to see the location of the opponent you are currently targeting."
All Other Participating Retailers
Uncharted 3 PSN Avatar & Static Theme for PS3
Don't be afraid to leave a comment below telling s what you think of the Collectors Edition. Remember, you don't need an account to comment!
Ad blocker interference detected!
Wikia is a free-to-use site that makes money from advertising. We have a modified experience for viewers using ad blockers

Wikia is not accessible if you've made further modifications. Remove the custom ad blocker rule(s) and the page will load as expected.