Victor Sullivan's bar is a location that appears in PlayStation Home and Uncharted: Golden Abyss.
The Bar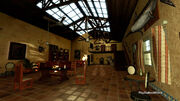 The bar is the only known business that Sully runs in the
Uncharted series
. Some of the treasures that
Nathan Drake
finds on his adventures are kept and displayed at Sully's Bar. Sully's Bar also has arcade machines with the game "Mercenary Madness" and a small T.V. behind the bar. There are also three other rooms that are accessible at Sully's Bar: Artifact Room (which contains treasures found on Nate's adventures, Archives (which contains information on past adventures) and the Smuggler's Den.
PlayStation Home Release
Naughty Dog has released an Uncharted space for the PlayStation 3's online community-based service, PlayStation Home. This space is Sully's Bar from the game. In this space users can play an arcade mini-game called "Mercenary Madness". There are also three other rooms in this space: Artifact Room, Archives, and Smuggler's Den. There is an artifact viewer in the Archives room and the Smuggler's Den room. Also in the Archives room there is a video screen that shows a trailer for Uncharted 2: Among Thieves. The Artifact Room only features seating and different artifacts to look at.
Uncharted: Golden Abyss
The bar only appears in Chapter 20: "Sticking Your Neck Out" when Nate and Sully discuss La Selva de las Serpientes.
Appearances
Uncharted: Golden Abyss
Gallery
Ad blocker interference detected!
Wikia is a free-to-use site that makes money from advertising. We have a modified experience for viewers using ad blockers

Wikia is not accessible if you've made further modifications. Remove the custom ad blocker rule(s) and the page will load as expected.