Village/Uncharted 3: Drake's Deception
Talk

0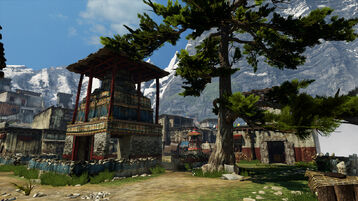 Village is a multiplayer map in Uncharted 3: Drake's Deception. It is a revamped version of The Village from Uncharted 2: Among Thieves. The map now has clear skies with sun to match. It comes with the Flashback Map Pack#2.
Environmental Factors
A tank passes through the map shooting a random player. It is also possible to be run over by the tank and this also reveals the RPG-7.
Weapon Locations
Co-op Arena
The building next to the Gold Rush treasure chest has an M32 Hammer.
The tower near the hero spawn has a Mag-5.
An M9 is located next to a piece of stone outside the M32 spawn building.
A Riot Shield spawns under the main, central building.
A Sawed Off Shotgun spawns in the hut with blue ladder on the red drying rack
A T-Bolt sniper is at the tower
Links
The Village: The original version of this map on Uncharted 2.
Village/Uncharted 4: A Thief's End: The remake of the village introduced in the Bounty Hunter DLC.